Site 9: Albert Road Clinic 29.01.05
Site #9 Talk:
Saturday January 29 2005, 3pm.
Albert Road Clinic
31 Albert Road,
(entrance via Bowen Lane)
South Melbourne
VIC. 3004.
Speaker:
Justin Clemens will address the work in the context of its siting at a private psychiatric hospital in a talk entitled eraser-heads.
"If everyone is well aware of the pleasures of wiping other people out, most people can't think of a genuinely creative way of doing this. Hence - artists. This talk suggests several ways in which Christian Capurro's recent project Another Misspent Portrait of Etienne de Silhouette adds to (or perhaps subtracts from) this tradition of aesthetic effacement." JC.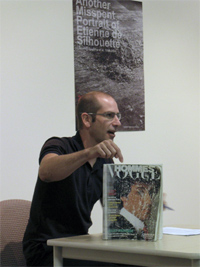 Justin Clemens is a poet and Director of Psychoanalytic Studies at Deakin University. He has published extensively on contemporary Australian art.
His books include The Mundiad (Black Inc., 2004), The Romanticism of Contemporary Theory: Institution, Aesthetics, Nihilism (Ashgate, 2003), Avoiding the Subject: Media, Culture and the Object (with Dom Pettman, Amsterdam University Press, 2005), and ten thousand fcuking monkeys.
An edited version of the site talk entitled "Getting off your face with a destructive character: Christian Capurro's 'Another Misspent Portrait of Etienne de Silhouette'", appeared in Artlink Volume 25 #1, 2005.
A full transcript of the talk and the subsequent discussion has now been posted. Click on the talk title for the link.
This will be the final AMPEdS event in Melbourne for now.
Further sitings and events will be taking place in Italy in the second half of 2007.