Erased: Contemporary Australian Drawing
---
Erased: Contemporary Australian Drawing
Vernon Ah Kee | Christian Capurro | Simryn Gill |
Jonathan Jones | Tom Nicholson | Raquel Ormella.
curated by Natasha Bullock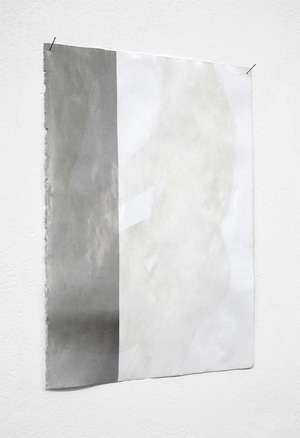 Compress 2006/7 (pit of dublivores #6)
ink, magazine page with erased reverse side, plus pins
299 x 229mm
private collection
---
An Asialink/Art Gallery of New South Wales exhibition that toured Asia through 2009-10, concluding in 2011 with its sole Australian presentation.
Venues
24.02. / 26.03.11 National Art School Gallery, Sydney
16.08. / 27.08.10 Khon Kaen Art Gallery, Khon Kaen
09.07. / 29.07.10 Chiang Mai University Faculty of Fine Art Gallery, Chiang Mai
04.06. / 28.06.10 PSG Art Gallery, Silpakorn University Gallery, Bangkok
20.07. / 23.08.09 Nanyang Academy of Fine Arts Gallery, Singapore.
---
Asialink presents Erased: Contemporary Australian Drawing, an exhibition of works by five internationally renowned contemporary Australian artists engaged in transforming the definition of drawing.
Erased: Contemporary Australian Drawing is presented in partnership with leading arts organization - the Art Gallery of New South Wales and profiles the diversity and strength of current contemporary Australian drawing practices.
The exhibiting artists are from Australian urban and indigenous backgrounds: Vernon Ah Kee (QLD), Christian Capurro (VIC), Simryn Gill (NSW), Jonathan Jones (NSW), Tom Nicholson (VIC) and Raquel Ormella (NSW). They all explore the traditional art method of mark making in drawing and engage with social issues ranging from environmental awareness, industrial relations and nationalism, to more subtle statements about image-making in contemporary culture.
Among some of the many synonyms used for 'drawing' are 'represent', 'sketch', 'portray', 'illustrate', or to 'depict something'. These traditional and historical definitions of drawing imply a means unto an end. Erased includes examples of these approaches but the exhibition's aim is to expand such understandings to include erasure or removal, arguably an inherent albeit silent part of the creative methodology of drawing.
Each selected artist in Erased has established an ongoing practice from which they make work that creates a space for political considerations, stemming from a sense of transformation or loss.
Natasha Bullock, Curator, Contemporary Art, Art Gallery of New South Wales.
Catalogue available.
---