a man held
---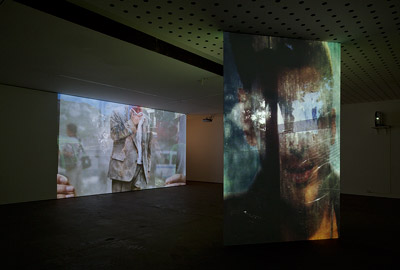 (l) a man held, 2012 / (r) Tower, 2012
5 channel mobile phone digital video installation with sound
a man held installation view
Centre for Contemporary Photography, Melbourne
20.02.15 - 19.04.15
a man held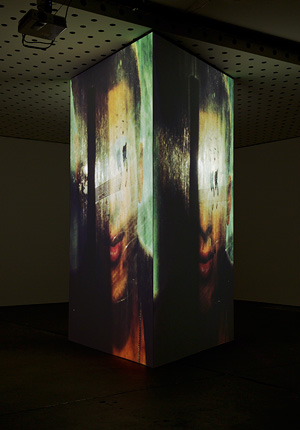 Tower, 2012
3 channel digital video installation with sound
a man held installation view
---
---
a man held is a five-channel digital video installation of experimental mobile phone films made in Lisbon and London in 2012. The installation is across two rooms: there are four large projections in the main room, three on a triangular screen and one on the wall; and a monitor work in the adjoining, smaller space. One film in each space has a direct sound track. The sound bleeds across both spaces and is heard, mostly, at a moment of correspondence, different in each track, which connects the films and the filmic spaces of the two rooms. The three films around the floor-to-ceiling triangular screen, that comprise the work Tower, show the near-same scene shot over a number of days.
The electronic document for a man held, with a commissioned text written/read by Roger Cook and further video documentation of the show, is available here.
---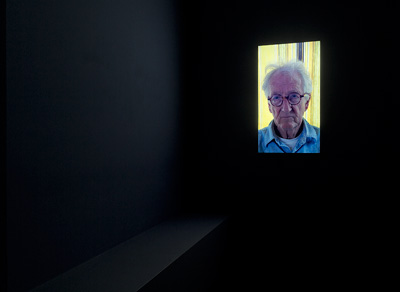 Amateur prop (Ti Parks, London) 2012
single channel mobile phone digital video with sound
duration: shot held for as long as possible
a man held installation view
---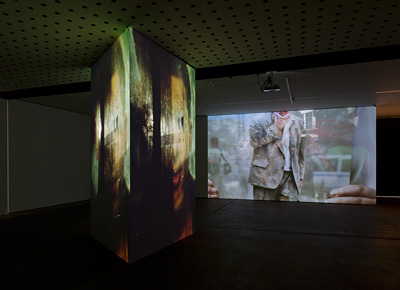 (l) Tower, 2012 / (r) a man held, 2012
5 channel mobile phone digital video installation with sound
a man held installation view
---
Opening - Thursday February 19, 6pm
Artist floor talk - Saturday February 21, 12pm
---
Centre for Contemporary Photography
404 George Street Fitzroy
Melbourne VIC 3065 Australia.
This project is supported by the Victorian Government through Creative Victoria.
---